If you need to drill in masonry and concrete, it is advisable to use hammer drill bits to achieve fast and reliable results. To ensure correct installation of construction parts, it is important to use drill bits from certified manufacturing. Only the use of bits from audited manufacturing can guarantee that the diameter of a drill hole is not exceeded, and thus ensure sustainably good results. Drills that are too far out of round, or with excessive tolerances in the carbide cutting edge can lead to drill holes that do not give a plug sufficient hold. In the worst case, installed elements will come loose causing major damage. We thus recommend the use of bits that comply with the rules established by the Prüfgemeinschaft Mauerbohrer (PGM - Wall Drill Test Association), an independent institute. You can identify these bits by the PGM kite mark.

Cooling is a topic of much debate in the diamond core bit field. Drilling and sawing service providers consider water to be indispensable during drilling. It helps to cool the drilling process and to dissipate the material removed as sludge. This achieves both short drilling times and a long service life of the core bit.
But home owners and construction site managers often want to do without using water. After all, it soils nearly finished, or inhabited rooms. On top of this, water accumulates in intermediate ceilings and can thus cause a problem with damp.
Heller offers only diamond core bits in which the diamond segments are welded using laser technology. Temperatures of up to 1000 °C can be transferred without any damage to the core. The break out values are thus minimised compared with rival products thanks to our special laser welding technique. This means that Heller diamond core bits can be used in masonry and screed in dry state. In this case, you must use a dust rotor to take up the dust from drilling and avoid clogging and jamming of the bit. In concrete and reinforced concrete water is indispensable as a coolant to allow the core to achieve sustainably reliable results.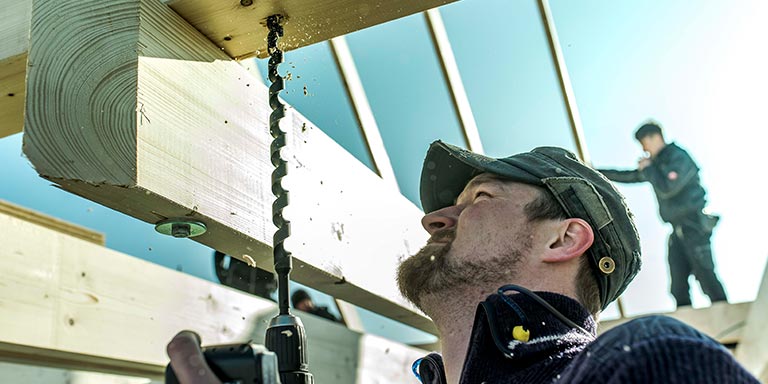 Accurately machined holes are vital when processing construction elements or producing high-quality wood parts. Where visible, they underline the looks of furniture and in the non-visible area holes are paramount for the accuracy of the design. For this reason, special, precisely machined wood drill bits must be used to process wood. Wood drill bits are equipped with a distinctive centring tip. The hole is precisely determined using the centring tip. Lateral shoulder cuts enable clean-cut fibres around the edge of the bore.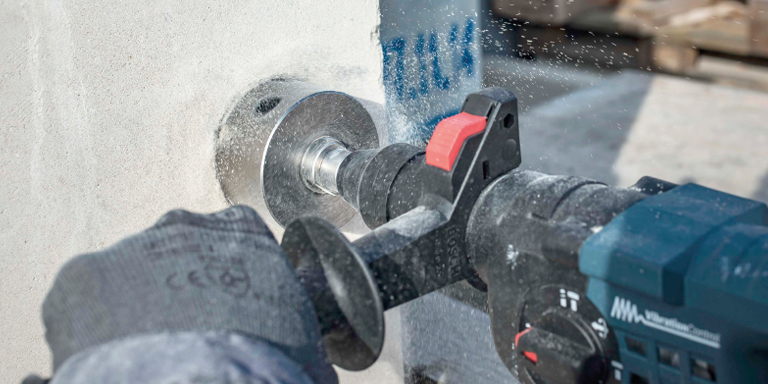 Universal and Special Drill Bits
Composites in the form of sections or plates are often made of a combination of different materials. A universal drill bit is most suitable for the task because it meets all the requirements of the
different materials. In addition, it saves the tradesman time if he uses tools with which he can drill through various materials in one operation. If components have to be fixed to brickwork, it saves a lot of time on adjustment and measurements if one bit can drill through the various materials. Moreover, these tools are suitable for users who only use a drill very occasionally. The occasional user will find the suitable all-round tool here, which he can use to drill through diverse materials. There is no need for these customers to buy special tools. Some modern building materials place demands on tools which conventional drilling tools cannot meet. For that reason, Heller offers special solutions which were designed for working with these new materials.

Jigsaw and Sabre Saw Blades
Tradesmen who work with wood and metal equally value the merits of the jigsaw & recipro saw blades. Many of the kinds of cut used on the construction site or in industrial manufacturing are possible with a jigsaw or recipro saw. Whether for dismounting components or for the geometrically accurate cutting of plates or sections made of wood, metal or plastic, jigsaw & recipro saw blades are perfect. Plate cutouts are possible, as is the precise machining of outer edges. Nowadays, saw blades are even used for work on gas concrete and tiles.